If interested in Bezels or any other parts to be restored,
please bring your parts to be exchanged!
____________________________________________

Shows We Will Be Attending :

MOPARS AT THE VALLEYCAR SHOW – SWAP MEET – DRAG RACES
Sunday, October 8th 2023 Only!
1746 US Route 20 West Lebanon NY 12195
GPS: 1746 US 20 East Chatham, NY 

For More Information Click Here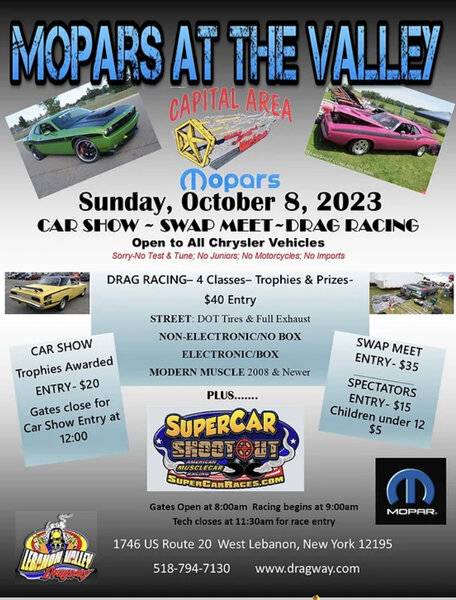 PLUS
SuperCar Fall Smack Down
Gates open at 8am. Racing begins at 9:30am.
For information on SuperCar Shootout, please visit www.supercarracers.com

July 14 – 16, 2023


Carlisle Chrysler Nationals – Carlisle, PA

–

www.carsatcarlisle.com

We will be there! Come join us!!!
____________________________________________
Past Shows We Have Attended
Suffolk Community College Car Show And Swap Meet
October 9th 2022 – 6am – 1pm –

Click Here

For More Info

2016 – 2022
Carlisle Chrysler Nationals – Carlisle, PA – www.carsatcarlisle.com
2015

SUN MARCH 29 Rain or Shine

Belmont Racetrack

Elmont
SUN APRIL 12 Rain or Shine

MacArthur Airport

Ronkonkoma
SUN MAY 3 Rain or Shine

MacArthur Airport

Ronkonkoma
SUN MAY 17 (Rain Date May 31)

Flowerfield Fairground

St James
SUN JUNE 7 Rain or Shine

MacArthur Airport

Ronkonkoma
JULY 10-12, 2015 Carlisle

Chrysler Nationals

–
Carlisle, PA

– www.carsatcarlisle.com
SUN AUG 2 Rain or Shine MacArthur Airport Ronkonkoma
SUN AUG 9 (Rain Date Aug 16)

Belmont Racetrack

Elmont


SUN SEPT 6 Rain or Shine

MacArthur Airport Ronkonkoma


SUN OCT 4 Rain or Shine

MacArthur Airport Ronkonkoma


SUN OCT 18 Rain Date Oct 25

Flowerfield Fairground St James


SUN NOV 1 Rain or Shine

MacArthur Airport Ronkonkoma


SUN NOV 8 Rain Date Nov 15

Belmont Racetrack

Elmont

2014
SUN APRIL 6th / MacArthur Airport, Ronkonkoma
SAT/SUN APRIL 12th & 13th / Belmont Racetrack, Elmont
SUN MAY 4th / MacArthur Airport, Ronkonkoma
SUN MAY 18th / Flowerfield Fairground, St James
SUN JUNE 1st / MacArthur Airport, Ronkonkoma
FRI/SAT/SUN JULY 11th – 13th / Chrysler National – Carlisle Events
SUN AUG 3rd / MacArthur Airport, Ronkonkoma
AUG 9th & 10th / Belmont Racetrack, Elmont
SUN SEPT 7th / MacArthur Airport, Ronkonkoma
SUN OCT 5th / MacArthur Airport, Ronkonkoma
SUN OCT 19th / Flowerfield Fairground, St James
NOV 1st & 2nd / Belmont Racetrack, Elmont
2013
Lebanon Valley Raceway
Saturday, Sept. 28 2013 – Mopars @ the Valley Plus NETO – Car Show (Saturday Only)
1746 US 20 – East Nassau, NY 12062 www.dragway.com
Eisenhower Park – CRUISE TO THE SHOW
East Meadow, NY 11554 – Sunday, September 29th 9-5pm
Website – Click Here For Details
Raceway Park, Englishtown, NJ – Car Show – Saturday, August 25th, 2012
8:00 AM – 6:00 PM
26th Annual Mopars @ E-Town / LXForums.com Modern Mopar Nationals. Supercar Showdown. Street Muffled vehicles only. Muffled Mopar Drag Racing & Car Show. Gates Open 8AM. Click Here For Details
Sunday, August 26th, 2012
8:00 AM – 6:00 PM
Raceway Park, Englishtown, NJ – Car Show
26th Annual Mopars @ E-Town / LXForums.com Modern Mopar Nationals. The East Coast's Largest All Classic & Modern Mopar Drag Race, Swap Meet and Auto Show. Supercar Showdown. Open 8AM. Click Here For Details